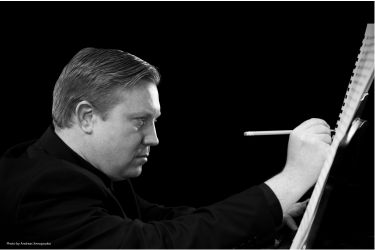 Recordings
Buffalo Ballads
Artist:Heidi C. Huseman Dewally, Oboe and English Horn
Theme: United States-composed pieces with a western flair celebrating Heidi Huseman Dewally's roots (from Oklahoma). Many of the pieces are inspired by songs and dances and are lyrical in nature.
Daniel's Works included on this CD:
Western Serenade for Oboe, Clarinet, and Piano
Song of Praise for English Horn & Piano
Sonata for Oboe and Piano

Available from Imagine Music Publishing

---
Into the 21st Century
Artists:Jeffrey Powers, Horn & Vincent Devries, Piano
Theme: This recording is a collection of beautiful, inspired music that shows the horn at its very best, as an instrument that is heroic, lyrical and sonorous. The music represents several of the different musical trends that were present in compositions written after World War II and leading into the beginning of the 21st century....The music of the young American Daniel Baldwin is heavily influenced by the minimalist tendencies of late 20th century music.
Daniel's work included on this CD:
Appalchian Suite for Horn & Piano
Available from MSR Classics

---
Landscapes: The Double Reed Music of Daniel Baldwin
Artists:Rodney Ackmann, Bassoon
TJ Blackburn, Bassoon
Wanda Brister, Mezzo-Soprano
Shih-han Chui, Bassoon
Heidi Huseman Dewally, Oboe
John C. Fullam, Clarinet
Bonnie Haines, English Horn
Jeongwon Ham, Piano
Gregory Lee, Violin
John Mitton, Piano
Matthew Morris, Bassoon & Contrabassoon
Scott Pool, Bassoon
Carl Rath, Bassoon
John Solomons, Piano
Daniel's works included on this CD:
Maverick Fanfare for Bassoon Quartet
Song of Praise for English Horn and Piano
Legend of the Fawn for 2 Bassoons and Piano
Western Serenade for Oboe, Clarinet and Piano
River of Light for Bassoon and Piano
Ballade from "Neoteric Suite" for Bassoon Choir
Of Flowers and Thorns for Mezzo-Soprano, Bassoon and Piano
Ballade for Bassoon, Violin and Piano
Into the Deep for Contrabassoon and Piano
The Rose Chronicles for Oboe, English Horn and Bassoon
Available from Imagine Music Publishing

---
Vocalise
Artist:Scott Pool, bassoon
Daniel's work included on this CD:
Of Flowers and Thorns for Voice, Bassoon and Piano
Available from Scott Pool

---